Oracle customers:
Deploy an agile,
modern infrastructure
for no new money
Experience a cloudburst of benefits with DXC:
Migrate to a cloud platform built for agility and innovation
Reduce capital spending
Pay less than you're paying today

Experience a
cloudburst of benefits
Preserve and leverage your Oracle investment by migrating and managing Oracle custom and legacy applications on a certified cloud platform — all from a single provider and with a single point of accountability.
The first and most important step is to remove costs from your existing infrastructure and unlock your current Oracle license relationship. DXC can help develop the business case with demonstrable ROI, evaluate and prioritize your migration path, and create a financial and operational model that aligns with your business strategy.
Our solution provides a standard and repeatable methodology to help enterprises leverage their Oracle investments on premise or with the cloud platform of their choice. These may include Oracle Cloud Infrastructure, Oracle Private Cloud Appliance at the client's data center, or Oracle Private Cloud Appliance at a DXC data center -- even maintaining some applications on your existing platform.
DXC Technology's Services for Oracle Cloud provide:
A pathway to help enterprises understand the complexities that come with moving workloads to the cloud
A standard and repeatable methodology using industry-leading migration and application-specific tools
Continuous improvements – planning to operations
Mitigation of the risks associated with hybrid architecture design, timelines, governance, security vulnerabilities, financial-model planning, skills, staffing, and business continuity
Sticking the Landing
Aerospace leader swaps aging Oracle infrastructure for modern, agile cloud platform while saving money.
Making the Case for Cloud
7 places to find savings when building your business case.
ENVISION for Oracle
Chart the future of your modern Oracle infrastructure with a one-day facilitated problem-solving workshop.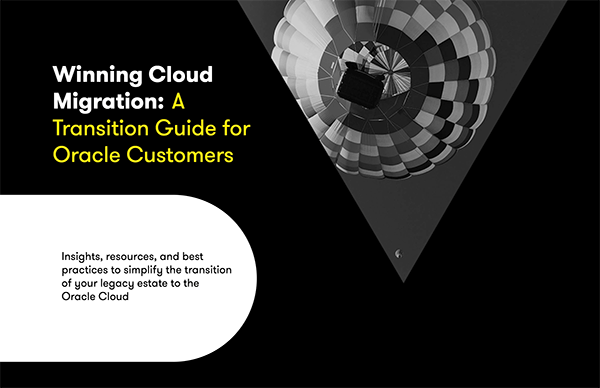 Winning Cloud Migration:
A Complex IT Transition Guide for Oracle Customers.
With insights from industry and cloud experts, this guide is customisable by your industry, your desired business outcomes and your level of cloud maturity.
Speak with a DXC
Cloud Expert
From lowering the costs of your Oracle infrastructure to evaluating your digital transformation options, a DXC Oracle Expert can answer your tough questions and help you create your digital transformation roadmap.
SERVICES & SOLUTIONS
Migrate your enterprise workloads
Optimize your Oracle estate to achieve elasticity, efficiency, resiliency and consistency, as well as providing enterprise-grade security and availability.
Reduce the cost of IT at the point of consumption
Reduce IT costs by as much as 50 percent on database licensing, 74 percent in data center operational overhead and 28 percent in redundant administrative resources.
A roadmap for digital transformation and Oracle Cloud
Making an informed decision to implement, upgrade or migrate your systems is critical to your business success. DXC can help by performing an implementation, upgrade or migration assessment. We bring the right resources and tools to assess your current Oracle applications environment and create a a roadmap to support your current and future business growth plans.
Speak with a DXC Cloud Expert
From lowering the costs of your legacy estate and building a business case to prioritizing which applications to migrate, a DXC Cloud Expert can answer your tough questions and help you create your digital transformation roadmap.